We are delighted to announce that we have completed a major redevelopment of Buckler's Hard Yacht Harbour, extending the Beaulieu River marina while preserving the unique character which makes it so special.
---
Since opening in 1971, the Buckler's Hard Yacht Harbour had remained largely unaltered. With the changing nature of modern boating, we undertook a major new development to increase capacity and improve services while maintaining the special character of the river. To minimise disruption, the works took place over the winters of 2019-2020 and 2020-2021.
The redevelopment has reconfigured and extended the existing marina to better meet customer demands, improving facilities for visiting vessels and delivering an increased provision of walk ashore berths.
---
Benefits & Improved Facilities
Improved visitor facilities including clearly defined and separated areas, significantly reducing the overlap of visitor and resident berthing.
New marina berths and moorings, increasing total capacity by an additional 66 berths.
Improved access to berths with a design that complies with best practice standards.
More walk ashore pontoons providing improved safety and convenience by reducing rafting and tender usage.
Upgraded electrical and other services to the marina.
Pump out facilities and a new wash down area in keeping with environmental standards.
More dedicated tender storage areas
---
Completed Plans
The new berth mix and layout future-proofs the marina for the next 25 years and enables us to accommodate historic levels of visitor activity.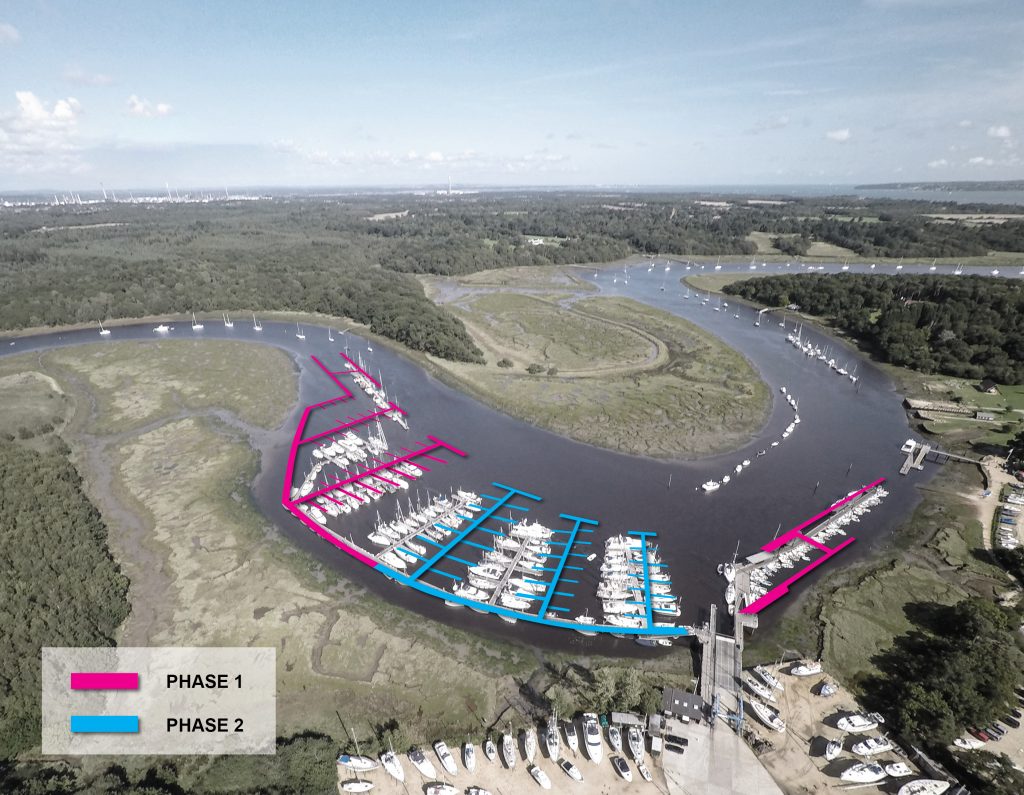 The following table provides a comparison between the previous and new berth numbers.
| Berth location/type | Previous | New |
| --- | --- | --- |
| Marina | 123 | 182 |
| Walk Ashore Visitors | 8* | 46 |
| River Pontoons (Residents) | 18 | 18 |
| River Pontoons (Visitors) | 20 | 0 |
| Fore & Aft Moorings | 15 | 15 |
| Trot Moorings | 10 | 0 |
| Swinging Moorings | 4 | 3 |
| Total | 198 | 264 |
*With rafting this is significantly increased
---
Taking care of our environment
Preserving the uniqueness and charm of the river is important to us and our customers, and we have been committed to undertaking the redevelopment in a sustainable way.
We have been careful to design the modified marina to have a similar look and feel to the existing marina using new and refurbished pontoons of the same type as existing. We specified the same or similar equipment, including using hardwood timber piles.
---
More information & new berth availability
Visiting
We're looking forward to welcoming existing and new visitors, and are already taking rally bookings for our improved capacity. Come and see for yourself how special a stay on the Beaulieu River is. 
New permanent berths
If you are considering joining us permanently, we'll be happy to provide a quote for one of the new marina berths and river moorings.
>Permanent berth and mooring holder benefits