Give your boat some well-deserved TLC with our onsite boatyard facilities.
---
Our friendly team at Buckler's Hard Yacht Harbour offer a competitive range of boatyard services all year round. A list of approved suppliers can be instructed to work in the boatyard, or alternatively an open yard policy allows customers to bring in their own contractors for a small charge.
Boatyard facilities at a glance
40 tonne hoist which can lift vessels up to 60ft
Experienced boatyard operatives
Comprehensive list of approved suppliers
Open yard policy
Onsite chandlery
---
Special offer: Summer Lift & Splash
Now available for the summer, receive a lift, scrub & re-launch (1hr max) for £14 per metre.
Summer Lift & Splash  (30 minutes wash max, 1 June – 30 Sept) 
Additional £160 per hour thereafter if scheduling allows
---
Service & storage prices
Our boatyard team operate a 35 tonne hoist which can lift vessels up to 60ft in length. We can lift, pressure wash and block ashore your vessel in our boatyard.
We also offer undercover storage at competitive prices for when you require a more specialised service.
Prices valid from 1st April – 31st October 2023
BOATYARD SERVICES 2023

(INC vat)

Lift Out, Scrub,

Block Off (per metre)

Launch

(per metre)

Storage

(per metre, per week)

Up to 10m

£30.00

£20.00

£6.50

10.1m to 13.5m

£32.00

£22.00

£7.00

13.6m to 15m

£33.00

£23.00

£7.50

15.1 to 18m

£35.00

£25.00

£8.00

Over 18m

POA

POA

POA
Resident Berth/Mooring Holders are entitled to 10% discount off lift out/launches throughout the year and one month's free storage ashore per mooring season.
Download Boatyard Application and Full Price List
All rates are based on LOA and include VAT. Prices are subject to change. 
---
Booking boatyard services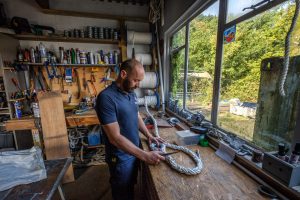 To enquire about availability for boatyard lift and launch services, please complete an application form. We will contact you to confirm which date(s) you have been allocated.
Please note that your submission of an application form is not a guarantee of your chosen date, but we will do our best to meet your requirements.
> Complete the boatyard application form
> Read the safety notes and customer terms and conditions
---
Open yard policy & approved suppliers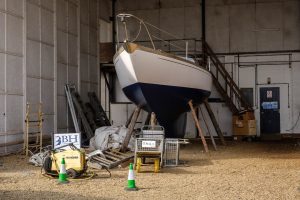 The Buckler's Hard boatyard is operated on an open policy basis.
Boat owners, for a small daily charge, are welcome to use suppliers of their own choice, provided they comply with our guidelines and register with the Harbour Master's Office. 
We also operate a list of approved suppliers.
Useful links: Contractor registration form | Contractor terms and conditions | Key release form
Did you know?
Resident berth and mooring holders are entitled to 10% off boat lifts and launches as well as 30 days free storage any time of year (excludes under cover storage and seasonal offers).