Take a deep breath… and relax. Welcome to one of the most peaceful rivers on the south coast.
---
Marina Redevelopment Complete
We're delighted to announce that our marina redevelopment is now complete! New facilities include a dedicated visitor area with convenient walk ashore berths and electric, as well as upgraded WiFi. We look forward to welcoming you back to explore the new marina.
---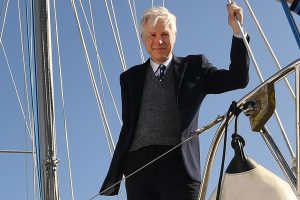 Welcome to the Beaulieu River, which forms the south-eastern edge of the Beaulieu Estate and is one of the few privately-owned estuaries in the world.
It is an ideal place from which to sail in the Solent or visit for a short stay and, if you seek the pleasures of the countryside, the Beaulieu Estate and New Forest National Park are on your doorstep.
The river has been in the custodianship of my family since 1538, when Henry VIII closed
Beaulieu Abbey and sold its lands to my ancestor Thomas Wriothesley. The monks had
settled at Beaulieu partly because the river ensured easy transit between the Abbey and
points further afield, and so it remains today.
Whilst the river retains many of the qualities it has had for centuries, the facilities continue to change as we seek to meet the expectations of our mooring-holders and visitors. With the marina reconfiguration completed in time for the yacht harbour's 50th anniversary in 2021, we are now turning our attention to improved systems for the launching, lifting, moving and storage of boats. I hope these will meet with your approval.
---
Whether you want a peaceful getaway or an action-packed adventure, the Beaulieu River has something for everyone. Visit us for the day, overnight or even longer.
Why visit the Beaulieu River?
The Beaulieu River is a great place to contemplate. It's my special place where I feel completely chilled. Sir Keith Mills GBE DL
---
Visiting rates
For visiting yachts, per vessel, per night, subject to availability. 
From 1st April to 31st October 2023:
| River Location |  Overnight* | Short Stay** |
| --- | --- | --- |
| Walk Ashore (inc electricity) | £4.75/metre | £2.25/metre |
|  River (upstream of Needs Ore)† | £2.75/metre | £1.50/metre |
| Anchorage § | £10/per boat | £8.00/ per boat |
From 1st November to 28th February 2024:
| River Location |  Overnight* | Short Stay** |
| --- | --- | --- |
| Walk Ashore (inc electricity) | £3.50/metre | £1.75/metre |
|  River (upstream of Needs Ore)† | £1.50/metre | £1.00/metre |
| Anchorage § | £10/per boat | £8.00/ per boat |
*applies from midday. We kindly request overnight visitors to vacate their mooring/berth by midday.
**A short stay is between 12:00 – 15:30. The overnight fee applies after 15:30.
†Swinging moorings have a yellow pick up buoy marked with a black V. 
§ To protect the sensitive habitats of the river, anchoring is only permitted between navigation piles 20 and 22. Does not include use of the marina facilities.
Prices include VAT at the current rate.  Prices may vary if there is a change in the standard rate of VAT. 
---
Other services
| Service |  Price |
| --- | --- |
| Slipway: launch & recovery less than 4 metres* | £10 per vessel (includes parking for 1 car) |
| Slipway: launch & recovery more than 4 metres* | £25 per vessel (includes parking for 1 car) |
| Car parking* | £5/day |
| Scrubbing grid** | First tide: £25  Subsequent tides: £19.50 |
* Must be pre-booked via the online booking system, or added to your overnight stay booking.
**Bookable via the Marina & Boatyard Reception.
Prices include VAT at the current rate.  Prices may vary if there is a change in the standard rate of VAT.
---
Map of marina berths
Our new visitor berths on Visitor Pontoon South offer convenient walk ashore positions, electricity and water supply.
You may also be interested in our map of marina facilities.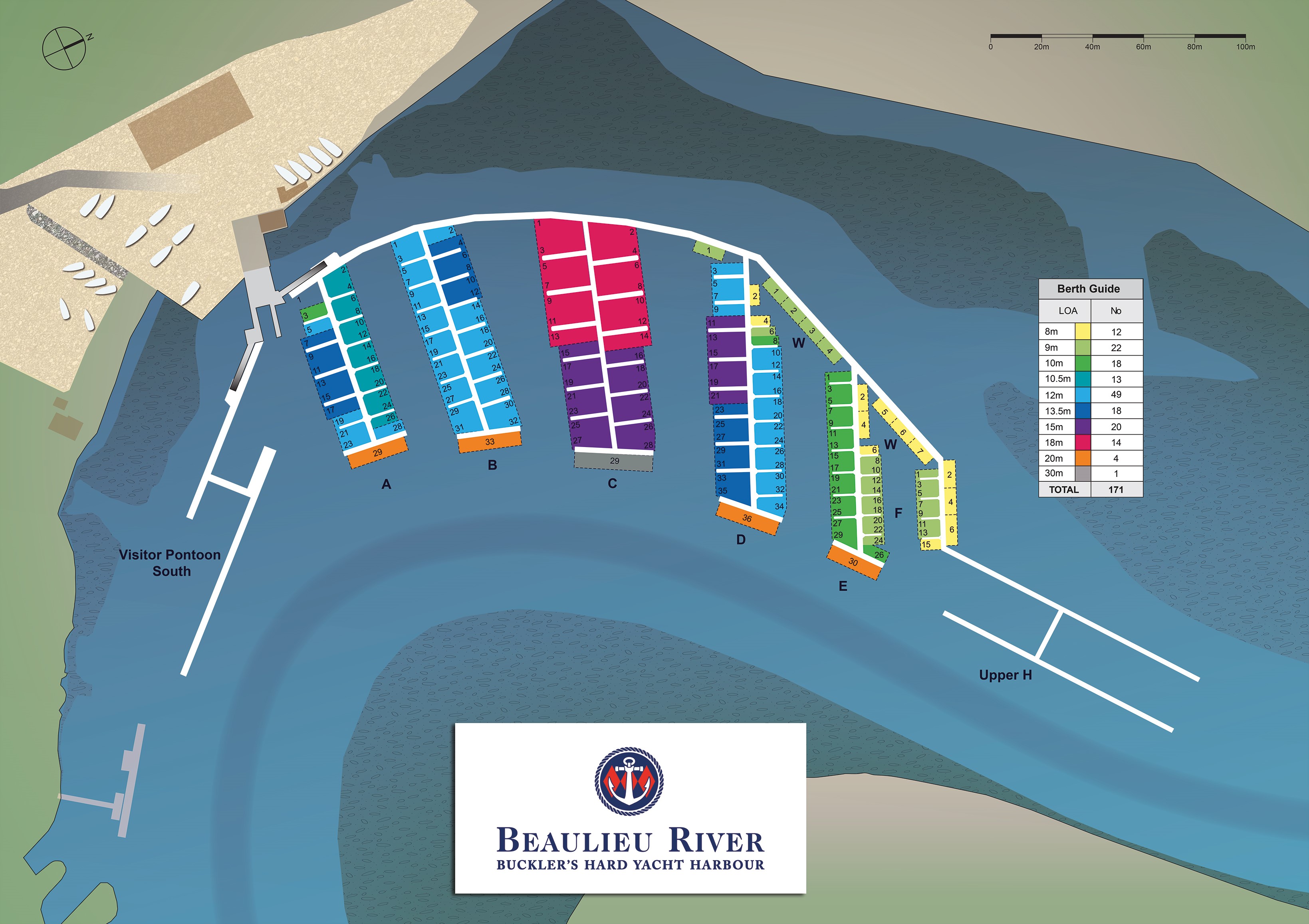 ---
Booking your visit
Overnight visits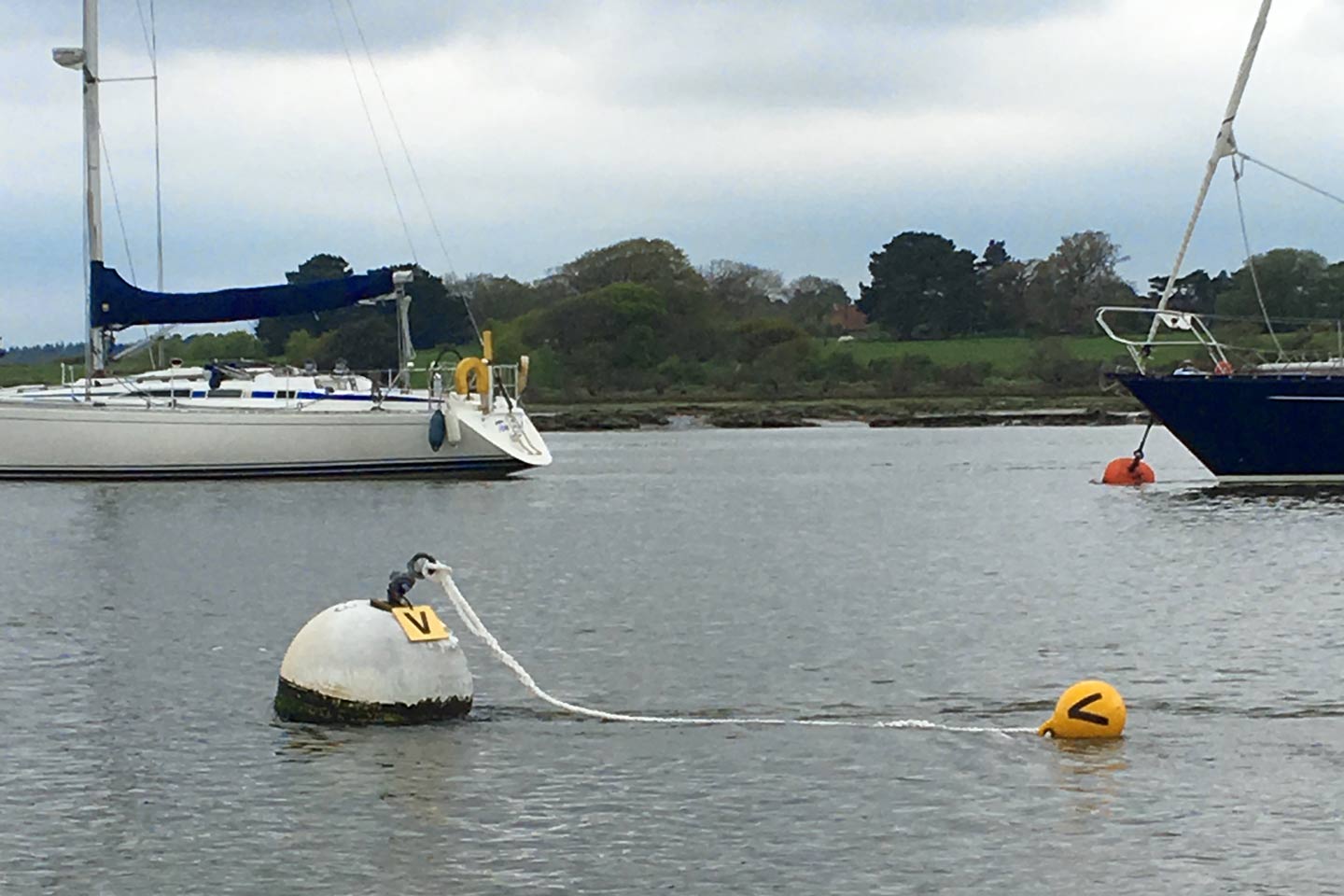 All overnight visits in the marina must be pre-booked and paid for in advance.
River moorings are available on a first come first served basis. Remember a dinghy will be required to get ashore.
To book your overnight stay, please complete the visitor enquiry form and the team will call you back to confirm the booking and take payment.
The visitor buoys can be picked up and paid for by telephone on arrival at 01590 616200.
Short stay visits
Short stays are available between 12:00 – 15:30. Please call us on VHF 68 on your approach to the marina and we will try to accommodate you. Payment can then be made in the Chandlery.
International visitors 
Pleasure Craft – UK/EU Entry & Exit Formalities 
Mariners are advised that from the 1st January 2022 the UK Government (HMRC) have updated their guidance for owners of recreational pleasure craft (non-commercial) who sail their craft to and from the United Kingdom (including the Channel Islands) must notify the UK border authorities upon their first arrival into a UK port.
Before leaving the UK (which includes going to the Channel Islands), you must advise the Border Force of your intentions by posting form C1331 (the address it must be posted to can be found on the form).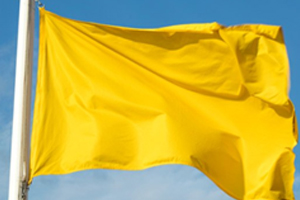 'Q' Flag
Both non-UK flagged vessels and UK flagged vessels returning from a trip outside of UK territorial waters (12 miles from shore) must fly the 'Q' flag where it can be readily seen as soon as UK waters are entered. The flag must not be taken down until you have finished reporting to the customs authorities. Failure to comply will make you liable to a penalty.
Arriving in the UK
When arriving direct from outside the UK you must phone the National Yachtline on 0300 123 2012. You will need to inform the Yachtline if any of the following apply:
• UK VAT has not been paid on the vessel
• you have on board goods which are to be treated as surplus stores as per Notice 69A
• you have any prohibited or restricted goods
• there is any notifiable illness on board
• there are any people on board who need immigration clearance
• any repairs or modifications, other than running repairs, have been carried out since the vessel last left the UK
• you have any goods for personal use on which you need to declare and pay UK tax or duty and cannot do so via the online service.
For further information, please view the Government Notice 8. Please contact us prior to arriving.
---
What should I do upon arrival?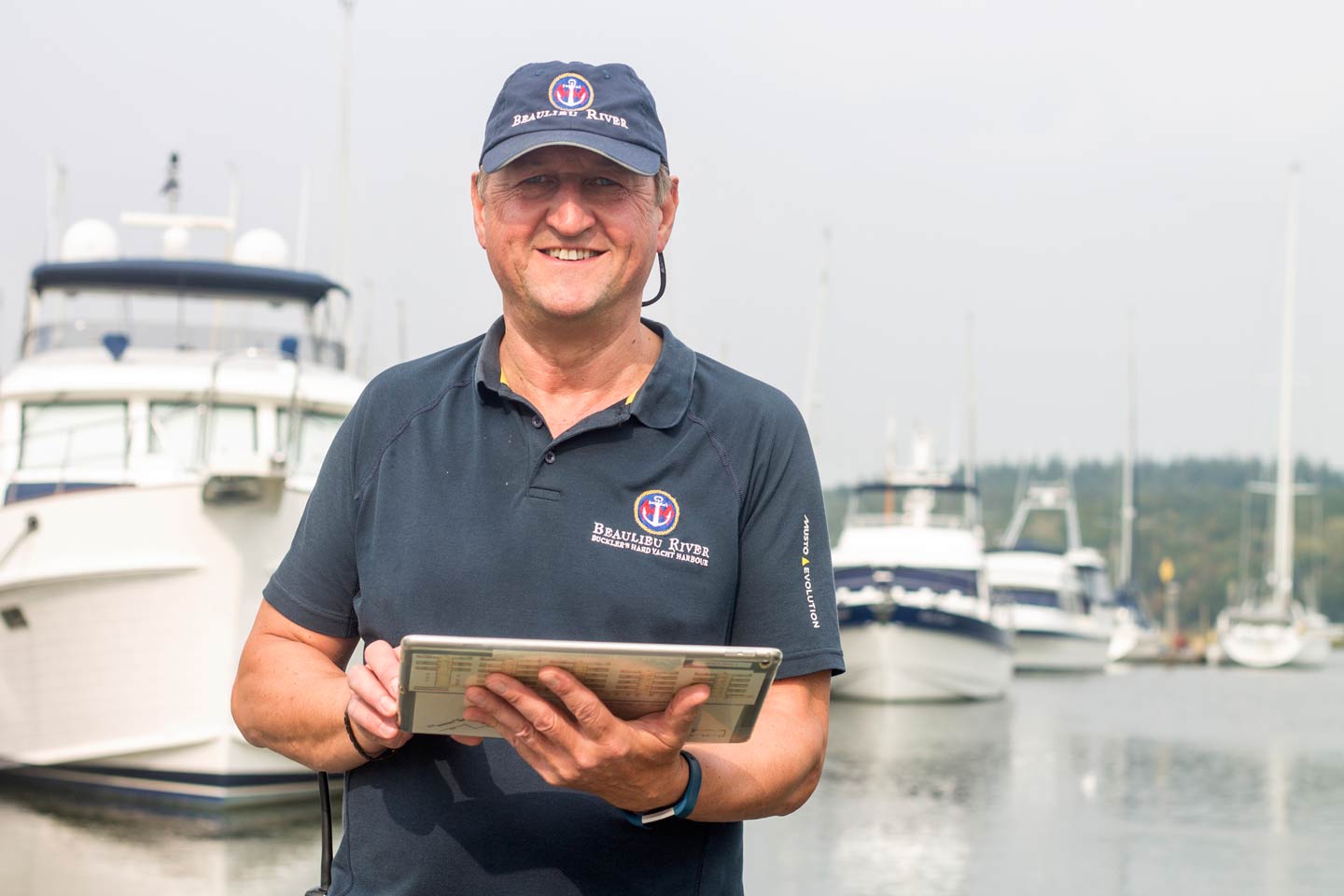 We ask pre-booked visitors to announce their approach to the marina via VHF channel 68, Beaulieu River Radio. One of the dockmasters will direct you to your visitor berth on the South Visitor Pontoons.
---
Refund policy
Any booking made between 1st September to 31st December and cancelled with 24 hours notice, will receive a credit note valid until 31st May 2024.
---
Download the Tide Times & Information Booklet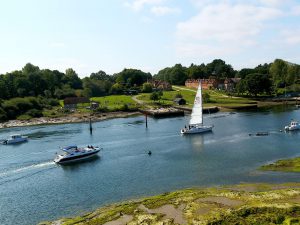 The Beaulieu River Tide Times & Information Booklet is your essential guide to the Beaulieu River and Buckler's Hard Yacht Harbour.
---
---
Keeping You Safe
Even with the relaxation of the Government advised Covid-safety restrictions, we will be maintaining a level of safety measures within the harbour to ensure the ongoing safety of all users and staff.