Buckler's Hard Yacht Harbour has been highly commended for its sustainability practices in the first ever Sustainable Marina Awards.  
---
The award-winning marina on the banks of the Beaulieu River was presented with its commendation by The Yacht Harbour Association (TYHA) at Southampton Boat Show in September.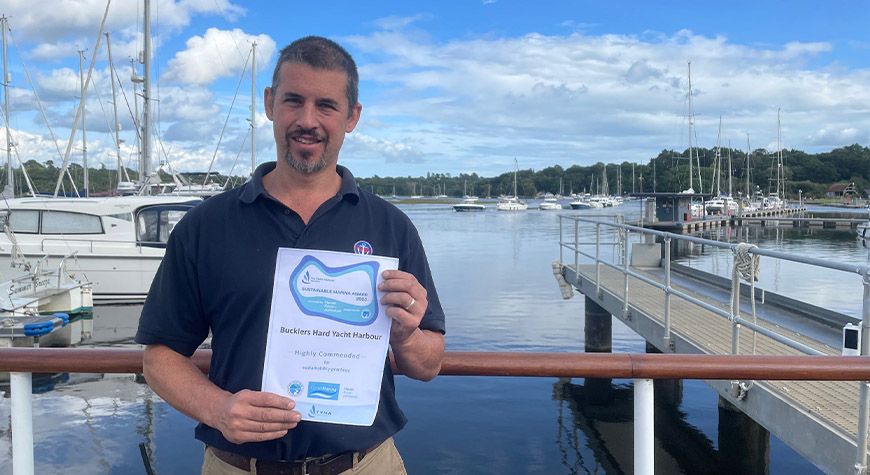 Above: Deputy Harbour Master Adam with the Sustainable Marina commendation certificate. 
Harbour Master Wendy Stowe, who received the commendation with her team at Britain's biggest festival of boating and watersports, said: "We are proud to have received this accolade, which recognises our commitment to taking a proactive role in protecting our unique habitats and promoting best practice standards.
"Encouraging visitors' environmentally-friendly behaviour and raising the awareness of good practice is an essential part of our role in protecting this very special place for the future."
Earlier in the year, Buckler's Hard Yacht Harbour was awarded TYHA's International Clean Marina accreditation for helping to protect the UK's oceans and waterways. The criteria included blackwater capture and treatment, correct management of hazardous waste, spill prevention and treatment, washdown capture and filtration, drain interception, the use of sustainable products and preventing plastic pollution.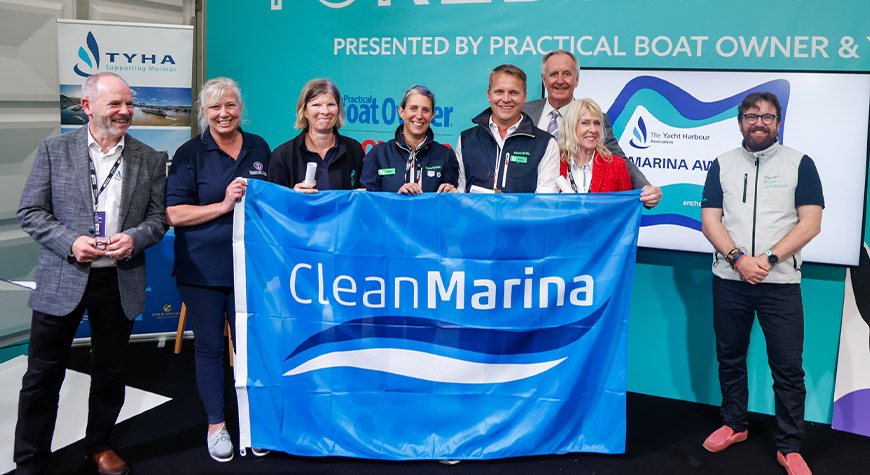 Above: Wendy Stowe collecting the award at The Southampton Boat Show 2023. 
The yacht harbour is part of The Green Blue, a joint environmental programme by British Marine and the Royal Yachting Association which promotes sustainable boating for healthier waters. It is also working with Blue Marine to improve biodiversity within the river, encouraging the re-establishment of species and organisms that can thrive within clean waters.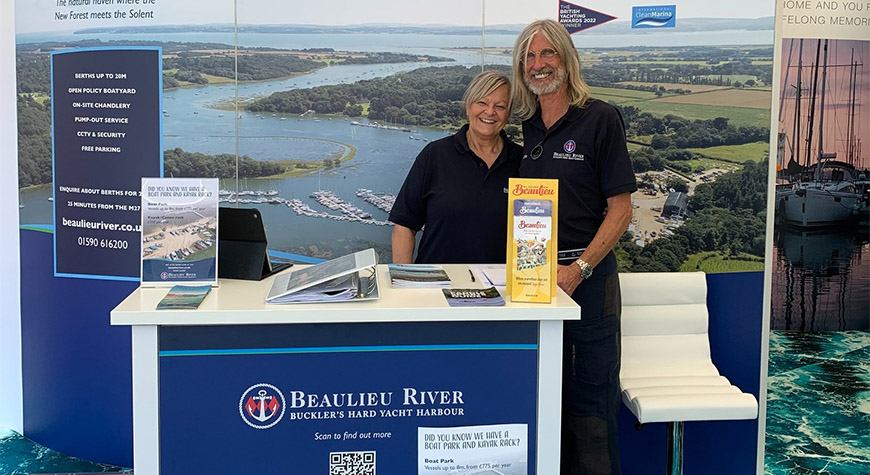 Above: The Buckler's Hard Yacht Harbour team at Southampton Boat Show 2023
The Beaulieu River is one of the few privately owned rivers in the world and the private custodianship of the Montagu family has protected it for over four centuries. Marking its recent half-century, a £2m investment in Beaulieu River Yacht Harbour included installing environmentally-friendly boat pump-out and washdown facilities, to enable cleaning to be carried out in an environmentally sensitive way.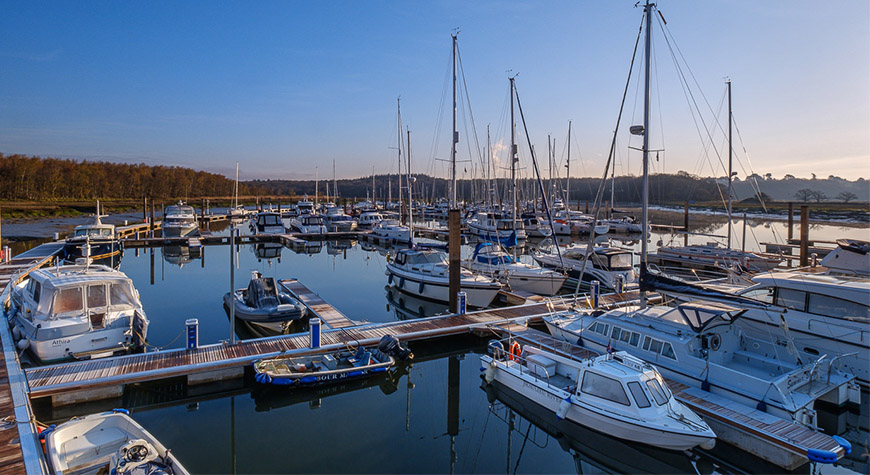 The Beaulieu River and surrounding area form part of a Special Area of Conservation (SAC) as well as a Site of Special Scientific Interest (SSSI), providing habitats for more than 200 species of birdlife. The habitats are an important feeding ground and lifeline for birds, with up to 125,000 wildfowl and wading birds visiting the Solent each winter. The Solent is home to 10% of the world's population of dark-bellied brent geese and the Beaulieu Estate's coastline provides habitats for 50% of the Solent's breeding pairs of ringed plover, as well as 40% of Hampshire's breeding population of oystercatchers.
Buckler's Hard Yacht Harbour provides full marina services, has an open boatyard policy, a chandlery and offers a range of benefits to its customers. A restaurant, bar and tea shop are on the doorstep at the 18th century shipbuilding village of Buckler's Hard, with its Museum. A packed events calendar also offers regular opportunities to bring together new and old friends in the Beaulieu River community. For moorings and berths see www.beaulieuriver.co.uk, email harbour.office@beaulieu.co.uk or call 01590 616200. To follow the latest news, visit Facebook and Instagram /beaulieuriver.